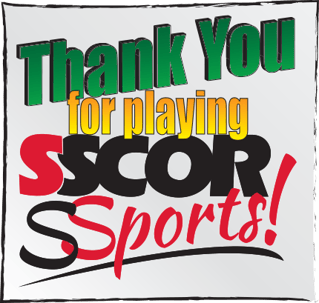 Compete against other SSCOR SSPORTS! enthusiasts and see who can answer the most questions correctly for the week's Pro Football games.
1) Fill out the required entry form below.
2) Use the drop downs to pick the correct answer for each game.
3) Click the submit button at the bottom of the page no later than 4PM (PST) the Thursday prior to that week's games.
4) Once your form is submitted properly online you will receive a Thank you Confirmation from SSCOR SPORTS! You are now entered and eligible to win this week's Playoff Pick'em prize.
5) Only One (1) weekly entry is allowed per person.
6) To be eligible to win participants must work for a healthcare agency or facility.
All entries will receive a complimentary SSCOR SSPORTS! foam football the 1st time they register to play!
GOOD LUCK!! Come back each week and play for the opportunity to win!
Click Here to read the complete SSCOR SSPORTS! official rules.
Thanks for playing SSCOR SSPORTS Pro Football Pick'em!
We hope you had as much fun as we did!
- - - - - - - - - - - - -
SSCOR SSPORTS will be back this Fall for a NEW season and even MORE fun!